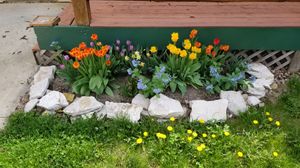 0:00/5:25

0:00/4:19

0:00/4:12
What Erin has done for me:
Worked a Full-Time job for our entire marriage.
Tended to me when I was sick.
Helped me repair/seal our patio door before another winter.
Wanted me to be able to play a quality instrument and bought one for me.
Sang on my recordings.
Was there for me when my father died.
Gave me a surprise 30th birthday party - inviting everyone we knew.  Catered in my favorite meal - Chicken, biscuits, potato wedges, & sweetcorn!
Built me a tall, sturdy, garage workbench by hand!
Helped me rewrite and edit my songs.
Made the most delicious spaghetti lunch I have ever tasted - for me and the crew that built our deck.
Gave us three boys to love.
Gave me thoughtful Christmas, Birthday, and Anniversary presents.
Helped me experience pure joy.
Introduced me to her poems.
Danced with me.
Made me laugh (that is very hard to do).
Said, "Yes," to me.
Made me feel loved.
Noticed me.