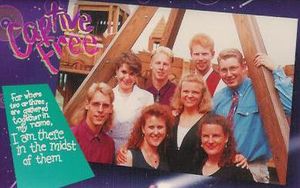 Youth Team Travels To Ellis
The Ellis Review, Ellis, Kansas
A youth musical ministry team traveling in Iowa, Missouri, Mississippi, Alabama, Kansas, Nebraska, Oklahoma, Eastern Colorado, Texas, Louisiana, Western Florida, and Arkansas will be in Ellis on Jan. 26.
The spirited Captive Free team members dedicate a year of their lives to performing in hundreds of churches, prisons, schools, and nursing homes.  Using music, puppets, and personal testimonials, team members reach out to people of all ages with a lively, modern performance.
The program includes something for everyone.  The puppet shows are for young children.  The contemporary Christian music appeals to middle and high school students.  The mellow music catches the adults' ears.