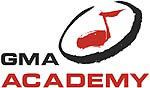 Artist Participates In The Academy Of Gospel Music Arts
by Nicki Pomeroy
Drew Jarrod participated in the Academy of Gospel Music Arts regional conference on Friday, October 13th and Saturday, October 14th.  The Academy of Gospel Music Arts is sponsored by the Gospel Music Association (GMA) and took place at Bethel College in Minnesota.
The Academy of Gospel Music Arts consists of eight regional weekends which include seminars, networking opportunities, a concert and competitions for music writing and performing.  The GMA was started in 1964 to encourage and promote Gospel music.  The Academy's weekends are designed for artists and writers who are interested in a ministry or career in Gospel music.
Jarrod was selected to compete in both of the music writing and performing competitions; Song of '96 and Spotlight '96.  The Song of '96 is a competition for songwriters whereas the Spotlight '96 is a competition for performance artists.  Jarrod has been composing and performing music for ten years and playing the guitar for four years.
Jarrod has not had any formal voice training previous to his first year at college, but feels his talent is a gift from God.
Jarrod performed two songs which he composed in August and September of this year (1995).  The competition was open to the public as well as to the participants of the conference.  The music artists were critiqued in the categories of Artistry, Communication Connection, Marketability, Musicianship and overall Performance.  The winners of the two competitions have the opportunity to compete in Nashville, TN during Gospel Music Week with winners from the other U.S. Regions.
Jarrod said he is not sure what career path God has chosen for him but he is sure it will include music.  Music is a form of expression for Jarrod, he uses music to share the word of God as well as an outlet for emotional energy.  Music is a major part of his life and he will share his music in the name of the Lord.