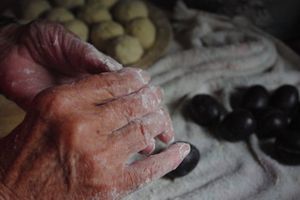 Recently, when a friend expressed interest in taking photographs, I thought she might be interested in using our camera to take pictures of us for music albums or book covers. She eagerly agreed and commented many times how much she enjoyed taking the photographs and using our camera. (She didn't have a camera of her own at the time and spoke with longing about how it would be many years, if ever, before she would be able to afford one of her own.)
My wife and I asked ourselves why our friend should have to wait to realize her dreams when we were in a position to help her? We had a bit of savings at the time, so we decided to offer our friend a no-interest, no-time limit loan to buy her own camera and whatever accessories she wanted so she could start living her dream of taking photographs.
She agreed and started carrying her camera with her everywhere she went, and, within a month, had her first picture (her grandmother preparing prune dumplings for Sunday supper) published in a newspaper. She is on her way.
How are you helping others live in their glory? How are you living in yours? Each of us has areas where we shine. Don't be afraid to stand up. Don't be afraid to stand out. Make your light known. How likely will others see God if they don't see Him in you?