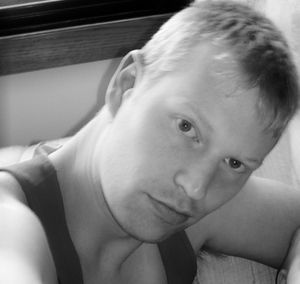 Musician Works On Second Album
by Phil Groth
Photo by Erin Jarrod
Drew Jarrod hasn't been writing much music lately.  He's been focusing on recording.  "It can be tough," he said, "because of all the options that technology allows."  Jarrod can add any digital instrument he wants using programs on his computer.  "With unlimited money and time, artists would probably never release anything.  There are almost too many possibilities.  A project is hardly ever finished.  Sometimes you just have to stop."
Jarrod released his first album, At Square One in 1997, and two song singles "Innocent Eyes" and "Here With Me" in 2009 and 2010 respectively. Continuing to release music as time and energy allow, Jarrod is currently working on producing another song single, "I Still Love You."
When At Square One was released, Jarrod went on tour.  Although he doesn't play a lot live, it's when he has the most fun.  "I never sing and play as well in practice as I do when I'm performing live."
His first band was with his cousins.  They would parody songs they heard on the radio, changing the lyrics to suit whatever they wanted to sing about.  Over time, Jarrod began to develop his own ideas about music... learning to write original lyrics and melodies.
He writes music in the style of Steven Curtis Chapman, Wes King, and Michael W. Smith, and tries to keep his music honest, simple, and genuinely inspired, not forced.  "I don't know how artists who release one album every year do it.  Sometimes writing 20-30 songs for every album they put out, and then narrow that list to just 10..."
Because Jarrod's livelihood doesn't come from his music, he has the luxury of writing only when inspiration strikes.  When inspiration does come, "A lot of times simple is better.  Some of the most popular songs have only three chords and eight words and they are repeated over and over.  But the songs that I like are written from an honest heart."  Jarrod is inspired by love, loss, hardship, and injustice... the complex things he sees in life.  "We live in an imperfect world...  Maybe we can come up with solutions to our problems if we all knew more about the situations.  Maybe writing a song will help that."
Faith is important to Jarrod's songwriting.  His music statement has been, "To present through music the good news that Jesus loves us, and God has forgiven us because of what Jesus has done."
If Jarrod is not currently writing music, having a young family is giving him a lot of inspiration.  "Raising children, I am learning about mercy and grace."